There is some amazing movie releases this month and I really don't know how I'm going to get to go see all of these wonderful movies. There is just no time on the run up to Christmas, but hopefully over the holidays I might be able to get to the cinema. What are you looking forward too or what have you seen? As always I love to hear your feedback.

Mary Queen of Scots
December 7, 2018
Queen of France at 16 and widowed at 18, Mary Stuart defies pressure to remarry. Instead, she returns to her native Scotland to reclaim her rightful throne. But Scotland and England fall under the rule of the compelling Elizabeth I. Each young Queen beholds her sister in fear and fascination. Rivals in power and in love, and female regents in a masculine world, the two must decide how to play the game of marriage versus independence.
Vox Lux
December 7, 2018.
Vox Lux was written and directed by Brady Corbet. It stars Natalie Portman, Jude Law, Raffey Cassidy, Stacy Martin and Jennifer Ehle.
Celeste is a 13-year-old music prodigy who survives a horrific school shooting in Staten Island, N.Y., in 1999. Her talent shines through during the memorial service when she sings a song that touches the hearts of the mourners. Guided by her sister and a talent manager, the young phenom transforms into a rising pop star with a promising future. Eighteen years later, Celeste now finds herself on the comeback trail when a scandal, personal struggles and the pitfalls of fame threaten her career.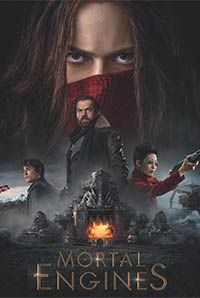 Mortal Engines
December 14, 2018.
Mortal Engines is a 2018 post-apocalyptic adventure film directed by Christian Rivers and with a screenplay by Fran Walsh, Philippa Boyens and Peter Jackson, based on the novel by Philip Reeve, and starring Hugo Weaving, Hera Hilmar, Robert Sheehan, Jihae, Ronan Raftery, Leila George, Patrick Malahide, and Stephen Lang.
An American-New Zealand co-production set hundreds of years after civilization was destroyed by a cataclysmic event, a mysterious young woman, Hester Shaw (Hera Hilmar), emerges as the only one who can stop London — now a giant, predator city on wheels — from devouring everything in its path. Feral, and fiercely driven by the memory of her mother, Hester joins forces with Tom Natsworthy (Robert Sheehan), an outcast from London, along with Anna Fang (Jihae), a dangerous outlaw with a bounty on her head.
Mary Poppins Returns
December 19, 2018.
Emily Blunt has been cast as Mary Poppins and Lin-Mauel Miranda will play a new character, a street lamplighter named Jack. Drawing from the wealth of material in P.L. Travers' seven additional novels, the story will take place in Depression-era London (when the books were originally written) and follows a now-grown Jane and Michael Banks, who, along with Michael's three children, are visited by the enigmatic Mary Poppins following a personal loss. Through her unique magical skills, and with the aid of her friend Jack, she helps the family rediscover the joy and wonder missing in their lives.
Aquaman
December 21, 2018.
Aquaman is a planned movie and is the seventh film in the DC Extended Universe about Arthur Curry's destiny as the King of Atlantis.
Sunrise Entertainment's producers Alan and Peter Riche are devoloping Aquaman to the big screen for Warner Bros. Pictures. Ben Grant, a first time scribe, was hired to write the screenplay. However the film fell through. In 2007 Santiago Cabrera was cast as Aquaman in its upcoming JLA film. However, later in the year the movie was shelved. In July 2009 it was reported that Aquaman is in development at Leonardo DiCaprio's Appian Way. Warner chairman and CEO Barry Meyer says that the Aquaman film is in development.
The project was announced on October 15, 2014 with Jason Momoa as Arthur Curry, Orin, Aquaman.
Second Act
December 21, 2018.
Second Act is an upcoming American romantic comedy film directed by Peter Segal and written by Elaine Goldsmith-Thomas and Justin Zackham. It stars Jennifer Lopez, Vanessa Hudgens and Leah Remini.
Value Shop assistant manager Maya Vargas wants only one thing for her 43rd birthday — a promotion. While her résumé may not scream upper management, her track record certainly does. Vargas is an innovator who listens to her customers and delivers results. When she loses the job to a college-educated candidate, Maya sets out to prove to Madison Avenue that street smarts are as valuable as book smarts — and it's never too late for a second act.
On the Basis of Sex
December 25, 2018.
On the Basis of Sex is a 2018 American biographical legal drama film based on the life of Supreme Court Justice Ruth Bader Ginsburg. Directed by Mimi Leder and written by Daniel Stiepleman, it stars Felicity Jones as Ginsburg, with Armie Hammer, Justin Theroux, Jack Reynor, Cailee Spaeny, Sam Waterston and Kathy Bates in supporting roles
Young lawyer Ruth Bader Ginsburg works with her husband to bring a groundbreaking case of gender discrimination before the Supreme Court.
Real Tasty Pages on Social Media!