Teen TV Series are a real hit right now and I have to say I really enjoy them. Netflix seems to have one out nearly every month so there is no shortage of them. So when I saw this movie release from Netflix, I knew it was for me! I also decided I was going to check out some books that were similar. So here's My Top 5 Books to Read after Watching Candy Jar!
The Art of French Kissing
by Brianna R. Shrum
Seventeen-year-old Carter Lane has wanted to be a chef since she was old enough to ignore her mom's warnings to stay away from the hot stove. And now she has the chance of a lifetime: a prestigious scholarship competition in Savannah, where students compete all summer in Chopped style challenges for a full-ride to one of the best culinary schools in the country. The only impossible challenge ingredient in her basket: Reid Yamada.
After Reid, her cute but unbearably cocky opponent, goes out of his way to screw her over on day one, Carter vows revenge, and soon they're involved in a full-fledged culinary war. Just as the tension between them reaches its boiling point, Carter and Reid are forced to work together if they want to win, and Carter begins to wonder if Reid's constant presence in her brain is about more than rivalry. And if maybe her desire to smack his mouth doesn't necessarily cancel out her desire to kiss it.
The New Guy (and Other Senior Year Distractions)
by Amy Spalding
A ridiculously cute, formerly-famous new guy dropping into your life? It's practically every girl's dream.
But not Jules McCallister-Morgan's.
I realize that on paper I look like your standard type-A, neurotic, overachiever. And maybe I am. But I didn't get to be the editor of my school's long-revered newspaper by just showing up*. I have one main goal for my senior year-early acceptance into my first choice Ivy League college-and I will not be deterred by best friends, moms who think I could stand to "live a little," or boys.
At least, that was the plan before I knew about Alex Powell**.
And before Alex Powell betrayed me***.
I know what you're thinking: Calm down, Jules. But you don't understand. This stuff matters. This is my life. And I'm not going down without a fight.
—-
* Okay, I sort of did. But it's a sore subject.
** I mean, I guess everyone knows about Alex Powell? Two years ago, you couldn't go anywhere without hearing about viral video boy band sensation Chaos 4 All. Two years ago, Alex Powell was famous.
***Some people think I'm overreacting. But this. Means. War.
Filled with romance, rivalry, and passive-aggressive dog walking, Amy Spalding delivers a hilariously relatable high school story that's sure to have you falling for The New Guy.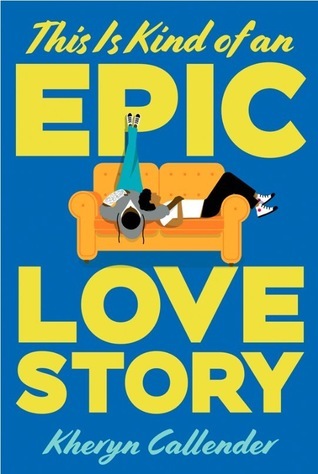 This Is Kind of an Epic Love Story by Kheryn Callender
A fresh, charming rom-com perfect for fans of Simon vs. the Homo Sapiens Agenda and Boy Meets Boy about Nathan Bird, who has sworn off happy endings but is sorely tested when his former best friend, Ollie, moves back to town.
Nathan Bird doesn't believe in happy endings.
Although he's the ultimate film buff and an aspiring screenwriter, Nate's seen the demise of too many relationships to believe that happy endings exist in real life.
Playing it safe to avoid a broken heart has been his MO ever since his father died and left his mom to unravel—but this strategy is not without fault. His best-friend-turned-girlfriend-turned-best-friend-again, Florence, is set on making sure Nate finds someone else. And in a twist that is rom-com-worthy, someone does come along: Oliver James Hernández, his childhood best friend.
After a painful mix-up when they were little, Nate finally has the chance to tell Ollie the truth about his feelings. But can Nate find the courage to pursue his own happily ever after?
I Believe in a Thing Called Love by Maurene Goo
Desi Lee believes anything is possible if you have a plan. That's how she became student body president. Varsity soccer star. And it's how she'll get into Stanford. But—she's never had a boyfriend. In fact, she's a disaster in romance, a clumsy, stammering humiliation magnet whose botched attempts at flirting have become legendary with her friends. So when the hottest human specimen to have ever lived walks into her life one day, Desi decides to tackle her flirting failures with the same zest she's applied to everything else in her life. She finds guidance in the Korean dramas her father has been obsessively watching for years—where the hapless heroine always seems to end up in the arms of her true love by episode ten. It's a simple formula, and Desi is a quick study. Armed with her "K Drama Steps to True Love," Desi goes after the moody, elusive artist Luca Drakos—and boat rescues, love triangles, and staged car crashes ensue. But when the fun and games turn to true feels, Desi finds out that real love is about way more than just drama.
Perfect Liars by Kimberly Reid
Andrea Faraday is junior class valedictorian at the exclusive Woodruff School, where she was voted Most Likely to Do Everything Right. But looks can be deceiving. When her parents disappear, her life and her Perfect Girl charade begins to crumble, and her scheme to put things right just takes the situation from bad to so much worse. Pretty soon she's struck up the world's least likely friendship with the juvenile delinquents at Justice Academy, the last exit on the road to jail and the first stop on the way out.
If she were telling it straight, friendship might not be the right word to describe their alliance, since Drea and her new associates could not be more different. She's rich and privileged; they're broke and, well, criminal. But Drea's got a secret: she has more in common with the juvie kids than they d ever suspect. When it turns out they share a common enemy, Drea suggests they join forces to set things right. Sometimes, to save the day, a good girl's gotta be bad.
Real Tasty Pages on Social Media!