All That I Can Fix by Crystal Chan
In Makersville, Indiana, people know all about Ronney—he's from that mixed-race family with the dad who tried to kill himself, the pill-popping mom, and the genius kid sister. If having a family like that wasn't bad enough, the local eccentric at the edge of town decided one night to open up all the cages of his exotic zoo—lions, cheetahs, tigers—and then shoot himself dead. Go figure. Even more proof that you can't trust adults to do the right thing.
Overnight, news crews, gun control supporters, and gun rights advocates descend on Makersville, bringing around-the-clock news coverage, rallies, and anti-rallies with them. With his parents checked out, Ronney is left tending to his sister's mounting fears of roaming lions, stopping his best friend from going on a suburban safari, and shaking loose a lonely boy who follows Ronney wherever he goes. Can Ronney figure out a way to hold it together as all his worlds fall apart?
From acclaimed author Crystal Chan comes an incisive tale of love, loyalty, and the great leaps we take to protect the people and places we love most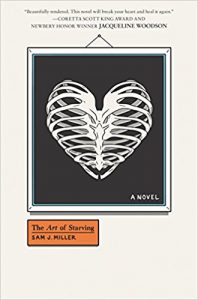 The Art of Starving by Sam J. Miller
More Happy Than Not meets Glory O'Brien's History of the Futurein this gritty, contemporary YA debut about a bullied gay teen boy with an eating disorder who believes he's developed super powers via starvation.
Matt hasn't eaten in days.
His stomach stabs and twists inside, pleading for a meal. But Matt won't give in. The hunger clears his mind, keeps him sharp—and he needs to be as sharp as possible if he's going to find out just how Tariq and his band of high school bullies drove his sister, Maya, away.
Matt's hardworking mom keeps the kitchen crammed with food, but Matt can resist the siren call of casseroles and cookies because he has discovered something: the less he eats the more he seems to have . . . powers. The ability to see things he shouldn't be able to see. The knack of tuning in to thoughts right out of people's heads. Maybe even the authority to bend time and space.
So what is lunch, really, compared to the secrets of the universe?
Matt decides to infiltrate Tariq's life, then use his powers to uncover what happened to Maya. All he needs to do is keep the hunger and longing at bay. No problem. But Matt doesn't realize there are many kinds of hunger… and he isn't in control of all of them.
A darkly funny, moving story of body image, addiction, friendship, and love, Sam J. Miller's debut novel will resonate with any reader who's ever craved the power that comes with self-acceptance.
Bruised 
by

 Sarah Skilton

Imogen has always believed that her black belt in Tae Kwon Do made her stronger than everyone else–more responsible, more capable. But when she witnesses a holdup in a diner, she freezes. The gunman is shot and killed by the police. And it's all her fault.

Now she's got to rebuild her life without the talent that made her special and the beliefs that made her strong. If only she could prove herself in a fight–a real fight–she might be able to let go of the guilt and shock. She's drawn to Ricky, another witness to the holdup, both romantically and because she believes he might be able to give her the fight she's been waiting for.

But when it comes down to it, a fight won't answer Imogen's big questions: What does it really mean to be stronger than other people? Is there such a thing as a fair fight? And can someone who's beaten and bruised fall in love?
Clean 
by

 Amy Reed

You're probably wondering how I ended up here. I'm still wondering the same thing.

Olivia, Kelly, Christopher, Jason, and Eva have one thing in common: They're addicts. Addicts who have hit rock bottom and been stuck together in rehab to face their problems, face sobriety, and face themselves. None of them wants to be there. None of them wants to confront the truths about their pasts. And they certainly don't want to share their darkest secrets and most desperate fears with a room of strangers. But they'll all have to deal with themselves—and one another—if they want to learn how to live. Because when you get that high, there's nowhere to go but down, down, down.
Finding Audrey 
by

 Sophie Kinsella

Audrey can't leave the house. she can't even take off her dark glasses inside the house.

Then her brother's friend Linus stumbles into her life. With his friendly, orange-slice smile and his funny notes, he starts to entice Audrey out again – well, Starbucks is a start. And with Linus at her side, Audrey feels like she can do the things she'd thought were too scary. Suddenly, finding her way back to the real world seems achievable.
Real Tasty Pages on Social Media!