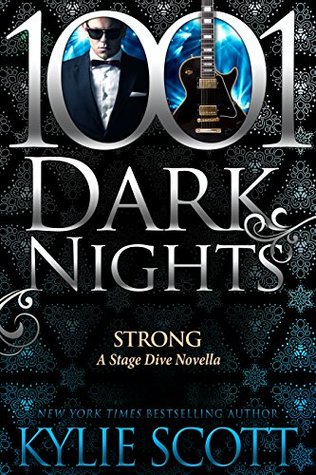 Strong (Stage Dive #4.5)
by Kylie Scott
Release Date:  September 25th 2018
From New York Times and USA Today bestselling author Kylie Scott comes a new story in her Stage Dive series…
When the girl of your dreams is kind of a nightmare.
As head of security to Stage Dive, one of the biggest rock bands in the world, Sam Knowles has plenty of experience dealing with trouble. But spoilt brat Martha Nicholson just might be the worst thing he's ever encountered. The beautiful troublemaker claims to have reformed, but Sam knows better than to think with what's in his pants. Unfortunately, it's not so easy to make his heart fall into line.
Martha's had her sights on the seriously built bodyguard for years. Quiet and conservative, he's not even remotely her type. So why the hell can't she get him out of her mind? There's more to her than the Louboutin wearing party-girl of previous years, however. Maybe it's time to let him in on that fact and deal with this thing between them.
**Every 1001 Dark Nights novella is a standalone story. For new readers, it's an introduction to an author's world. And for fans, it's a bonus book in the author's series. We hope you'll enjoy each one as much as we do.**
Review:
5 Stage Dive Stars on Goodreads
I'm a huge fan of Kylie Scott and when I heard she was going to release this book I was over the moon! This is a Stage Dive Novella and tells Sam and Martha's story. It blew  me away, it was told beautifully and I loved being back in the stage dive world. Martha is Ben's sister and has in the past cause some trouble with some of the band. She is a hard ass but means no harm really. Sam is the bands head of security and has for as long as he can remember been into Martha, but it has never been the right time to start something up. That is until she returns to live with Ben and Lizzie to look after their son (her nephew) Gibson.
'Considering I've been waiting for you for almost a decade, I think I've got a pretty good understanding of what goes on in that gorgeous head of yours.' 
Their story was short but very sweet with a little sexy thrown in. I really hope there is more, just realised how much I loved this series.
Real Tasty Pages on Social Media!