Dr. Strange Beard (Winston Brothers #5)
by

 Penny Reid

Expected publication: July 30th 2018

Everyone in Green Valley, Tennessee knows that the six bearded Winston brothers have been imbued with an unfair share of charm and charisma… and are prone to mischief.

Dr. Strange Beard, the fifth book in the Winston Brothers Series, from USA Today bestselling author Penny Reid publishes in July 2018!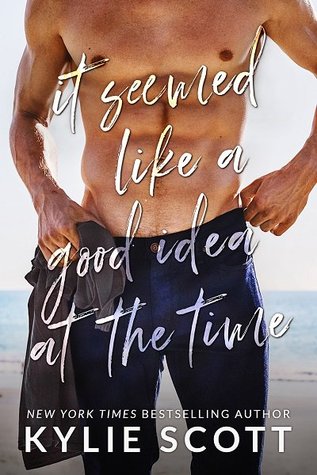 It Seemed Like a Good Idea at the Time
by

 Kylie Scott

Expected publication: August 7th 2018

Returning home for her father's wedding was never going to be easy for Adele. If being sent away at eighteen hadn't been bad enough, the mess she left behind when she made a pass at her dad's business partner sure was.

Fifteen years older than her, Pete had been her crush for as long as she could remember. But she'd misread the situation—confusing friendliness for undying love. Awkward. Add her father to the misunderstanding, and Pete had been left with a broken nose and a business on the edge of ruin. The man had to be just as glad as everyone else when she left town.

Seven years on, things are different. Adele is no longer a kid, but a fully grown adult more than capable of getting through the wedding and being polite. But all it takes is seeing him again to bring back all those old feelings.

Sometimes first loves are the truest.
Tossed Into Love (Fluke My Life #3)
by

 Aurora Rose Reynolds

Expected publication: August 21st 2018

Can the best of enemies become the hottest of lovers? New York Times bestselling author Aurora Rose Reynolds proves that opposites can be compatible—and twice as combustible…

Libby Reed is over it. Or that's what she tells herself. She's lusted after one of New York's bravest for years, but firefighter Antonio Moretti has doused her interest for the last time. As much as she wants the arrogant jerk (in a bad, bad way), they can't even be in the same room without setting each other off…which might be a problem now that she's volunteered to help out in his family's restaurant.

Antonio's been burned before. Now he knows better than to trust a pretty face and follow another pair of long, beautiful legs into heartbreak. But while Libby might rub him the wrong way, he can't deny the heat between them. And it only burns hotter when she steps up in his time of need. The closer they get, the more he realizes he may have misjudged her. Then again, he doesn't know the secret Libby's keeping that could send their relationship up in flames before it's even begun.
Wild Like the Wind (Chaos #6)
by

 Kristen Ashley

Expected publication: July 31st 2018

The brother known as Hound has a reputation. He's all about cracking heads, having a good time, and when the Chaos Motorcycle Club needs someone to do the tough job, they call on him.

But Hound has a secret. He fell in love with a woman years ago. She's untouchable. Unattainable. And even when her status changes, for Hound, it remains the same.

Keely Black had it all early and lost it all not long after. Thrown into an abyss of loss and grief, she's faced a life of raising two sons alone and battling the rage at all that had been ripped from them.

And why.

Words spoken in anger open Hound's and Keely's eyes. For Hound, he sees he's wasted his life loving the wrong woman. Keely sees she's wasting her life not opening herself to the love of a good man.
Heart of Glass (Fostering Love #3)
by

 Nicole Jacquelyn

Expected publication: July 10th 2018
The next standalone novel from Nicole Jacquelyn about love, friendship, and forgiveness. 
Henry Harris was living his dream as a staff sergeant in the Marines. When he's killed in action, his devastated family is in for one more shock: he had a daughter they never knew about.
Morgan Riley has been raising Etta on her own, and that's always been fine by her – until Henry's brother Trevor arrives on her doorstep, willing to do anything to help and make up for his brother's mistakes. Their attraction feels wrong, but Morgan can't seem to turn him away.
Trevor is suddenly in too deep. He has always wanted a family, but Etta and Morgan come with complications. Yet as Etta brings them closer together, Trevor begins to imagine giving Morgan and Etta the life his brother never could. But he wonders if Morgan will ever learn to trust another man with her heart, especially a man whose last name is Harris.
Real Tasty Pages on Social Media!