Well tis the season, days are shorter and its getting dark earlier. The leaves are turning a beautiful colours. This is my favourite time of the year. I love the smell in the air that tells you what time of the year it is. Halloween is just around the corner and I'm going to give you five books that will scare the ba-jayus out of you! Enjoy!
The Hidden by Heather Graham
Can the same killer strike again—a hundred and fifty years later? 
Estes Park, Colorado, is a place of serenity. But it wasn't always so serene. Shortly after the Civil War, Nathan Kendall and his wife were murdered there, leaving behind a young son. The crime was never solved.
Now…historian Scarlet Barlow is working at a small museum attached to a B and B, the same building where that murder occurred. She recently came to Colorado, reeling after her divorce from FBI agent Diego McCullough. Diego—who's just been asked to join the Krewe of Hunters, a unit dealing with "unusual" situations…
When Scarlet unwittingly takes pictures of people who've been murdered—just like the Kendalls a hundred and fifty years before—the police look at her with suspicion. Then the museum's statues of historic people, including Nathan Kendall, begin to talk to her, and she knows it's time to call her ex-husband. Diego heads to Estes Park, determined to solve the bizarre case that threatens Scarlet's life—and to reunite with the woman he never stopped loving.
Brother by Ania Ahlborn
From the bestselling horror author of Within These Walls and The Bird Eater comes a brand-new novel of terror that follows a teenager determined to break from his family's unconventional—and deeply disturbing—traditions.
Deep in the heart of Appalachia stands a crooked farmhouse miles from any road. The Morrows keep to themselves, and it's served them well so far. When girls go missing off the side of the highway, the cops don't knock on their door. Which is a good thing, seeing as to what's buried in the Morrows' backyard.
But nineteen-year-old Michael Morrow isn't like the rest of his family. He doesn't take pleasure in the screams that echo through the trees. Michael pines for normalcy, and he's sure that someday he'll see the world beyond West Virginia. When he meets Alice, a pretty girl working at a record shop in the small nearby town of Dahlia, he's immediately smitten. For a moment, he nearly forgets about the monster he's become. But his brother, Rebel, is all too eager to remind Michael of his place…
The Night Sister by Jennifer McMahon
Once the thriving attraction of rural Vermont, the Tower Motel now stands in disrepair, alive only in the memories of Amy, Piper, and Piper's kid sister, Margot. The three played there as girls until the day that their games uncovered something dark and twisted in the motel's past, something that ruined their friendship forever.
Now adult, Piper and Margot have tried to forget what they found that fateful summer, but their lives are upended when Piper receives a panicked midnight call from Margot, with news of a horrific crime for which Amy stands accused. Suddenly, Margot and Piper are forced to relive the time that they found the suitcase that once belonged to Silvie Slater, the aunt that Amy claimed had run away to Hollywood to live out her dream of becoming Hitchcock's next blonde bombshell leading lady. As Margot and Piper investigate, a cleverly woven plot unfolds—revealing the story of Sylvie and Rose, two other sisters who lived at the motel during its 1950s heyday. Each believed the other to be something truly monstrous, but only one carries the secret that would haunt the generations to come.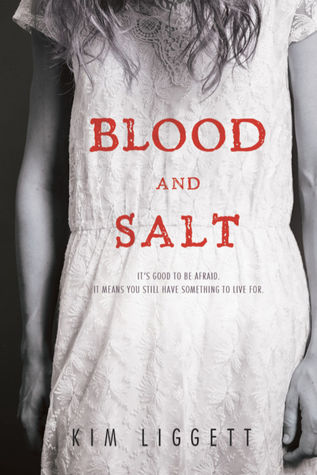 Blood and Salt by Kim Liggett
Romeo and Juliet meets Children of the Corn in this one-of-a-kind romantic horror.
"When you fall in love, you will carve out your heart and throw it into the deepest ocean. You will be all in—blood and salt."
These are the last words Ash Larkin hears before her mother returns to the spiritual commune she escaped long ago. But when Ash follows her to Quivira, Kansas, something sinister and ancient waits among the rustling cornstalks of this village lost to time.
Ash is plagued by memories of her ancestor, Katia, which harken back to the town's history of unrequited love and murder, alchemy and immortality. Charming traditions soon give way to a string of gruesome deaths, and Ash feels drawn to Dane, a forbidden boy with secrets of his own.
As the community prepares for a ceremony five hundred years in the making, Ash must fight not only to save her mother, but herself—and discover the truth about Quivira before it's too late. Before she's all in—blood and salt.
The Killing Lessons by Saul Black
When the two strangers turn up at Rowena Cooper's isolated Colorado farmhouse, she knows instantly that it's the end of everything. For the two haunted and driven men, on the other hand, it's just another stop on a long and bloody journey. And they still have many miles to go, and victims to sacrifice, before their work is done.
For San Francisco homicide detective Valerie Hart, their trail of victims–women abducted, tortured and left with a seemingly random series of objects inside them–has brought her from obsession to the edge of physical and psychological destruction. And she's losing hope of making a breakthrough before that happens.
But the murders at the Cooper farmhouse didn't quite go according to plan. There was a survivor, Rowena's ten-year-old daughter Nell, who now holds the key to the killings. Injured, half-frozen, terrified, Nell has only one place to go. And that place could be even more dangerous than what she's running from.
In this extraordinary, pulse-pounding debut, Saul Black takes us deep into the mind of a psychopath, and into the troubled heart of the woman determined to stop him.
 Check me out on Social Media!