"Memoirs means when you put down the good things you ought to have done and leave out the bad ones you did do."
Humorist Will Rogers
#GIRLBOSS

by

Sophia Amoruso
 The founder of Nasty Gal offers a sassy and irreverent manifesto for ambitious young women
At seventeen, Sophia Amoruso decided to forgo continuing education to pursue a life of hitchhiking, dumpster diving, and petty thievery. Now, at twenty-nine, she is the Founder, CEO, and Creative Director of Nasty Gal, a $100+ million e-tailer that draws A-list publicity and rabid fans for its leading-edge fashion and provocative online persona. Her story is extraordinary—and only part of the appeal of #GIRLBOSS.
This aspirational book doesn't patronize young women the way many business experts do. Amoruso shows readers how to channel their passion and hard work, while keeping their insecurities from getting in the way. She offers straight talk about making your voice heard and doing meaningful work.
She's proof that you can be a huge success without giving up your spirit of adventure or distinctive style. As she writes, "I have three pieces of advice I want you to remember: Don't ever grow up. Don't become a bore. Don't let The Man get to you. OK? Cool. Then let's do this."
Talking as Fast as I Can: From Gilmore Girls to Gilmore Girls, and Everything in Between  by Lauren Graham
In this collection of personal essays, the beloved star of Gilmore Girls and Parenthood reveals stories about life, love, and working as a woman in Hollywood—along with behind-the-scenes dispatches from the set of the new Gilmore Girls, where she plays the fast-talking Lorelai Gilmore once again.
In Talking as Fast as I Can, Lauren Graham hits pause for a moment and looks back on her life, sharing laugh-out-loud stories about growing up, starting out as an actress, and, years later, sitting in her trailer on the Parenthood set and asking herself, "Did you, um, make it?" She opens up about the challenges of being single in Hollywood ("Strangers were worried about me; that's how long I was single!"), the time she was asked to audition her butt for a role, and her experience being a judge on Project Runway ("It's like I had a fashion-induced blackout").
In "What It Was Like, Part One," Graham sits down for an epic Gilmore Girls marathon and reflects on being cast as the fast-talking Lorelai Gilmore. The essay "What It Was Like, Part Two" reveals how it felt to pick up the role again nine years later, and what doing so has meant to her.
Some more things you will learn about Lauren: She once tried to go vegan just to bond with Ellen DeGeneres, she's aware that meeting guys at awards shows has its pitfalls ("If you're meeting someone for the first time after three hours of hair, makeup, and styling, you've already set the bar too high"), and she's a card-carrying REI shopper ("My bungee cords now earn points!").
Including photos and excerpts from the diary Graham kept during the filming of the recent Gilmore Girls: A Year in the Life, this book is like a cozy night in, catching up with your best friend, laughing and swapping stories, and—of course—talking as fast as you can.
The Girl with the Lower Back Tattoo  by Amy Schumer
The Emmy Award-winning comedian, actress, writer, and star of Inside Amy Schumer and the acclaimed film Trainwreck has taken the entertainment world by storm with her winning blend of smart, satirical humor. Now, Amy Schumer has written a refreshingly candid and uproariously funny collection of (extremely) personal and observational essays.
In The Girl with the Lower Back Tattoo, Amy mines her past for stories about her teenage years, her family, relationships, and sex and shares the experiences that have shaped who she is – a woman with the courage to bare her soul to stand up for what she believes in, all while making us laugh.
Ranging from the raucous to the romantic, the heartfelt to the harrowing, this highly entertaining and universally appealing collection is the literary equivalent of a night out with your best friends – an unforgettable and fun adventure that you wish could last forever. Whether she's experiencing lust-at-first-sight while in the airport security line, sharing her own views on love and marriage, admitting to being an introvert, or discovering her cross-fit instructor's secret bad habit, Amy Schumer proves to be a bighearted, brave, and thoughtful storyteller that will leave you nodding your head in recognition, laughing out loud, and sobbing uncontrollably – but only because it's over.
Scrappy Little Nobody  by Anna Kendrick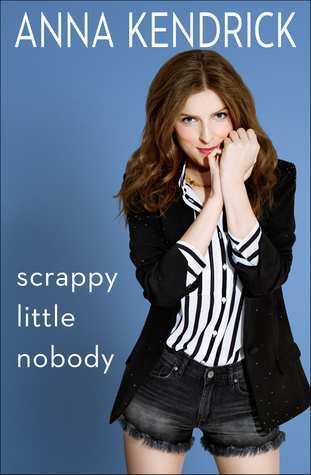 A collection of humorous autobiographical essays by the Academy Award-nominated actress and star of Up in the Air and Pitch Perfect.
Even before she made a name for herself on the silver screen starring in films like Pitch Perfect, Up in the Air, Twilight, and Into the Woods, Anna Kendrick was unusually small, weird, and "10 percent defiant."
At the ripe age of thirteen, she had already resolved to "keep the crazy inside my head where it belonged. Forever. But here's the thing about crazy: It. Wants. Out." In Scrappy Little Nobody, she invites readers inside her brain, sharing extraordinary and charmingly ordinary stories with candor and winningly wry observations.
With her razor-sharp wit, Anna recounts the absurdities she's experienced on her way to and from the heart of pop culture as only she can—from her unusual path to the performing arts (Vanilla Ice and baggy neon pants may have played a role) to her double life as a middle-school student who also starred on Broadway to her initial "dating experiments" (including only liking boys who didn't like her back) to reviewing a binder full of butt doubles to her struggle to live like an adult woman instead of a perpetual "man-child."
Enter Anna's world and follow her rise from "scrappy little nobody" to somebody who dazzles on the stage, the screen, and now the page—with an electric, singular voice, at once familiar and surprising, sharp and sweet, funny and serious (well, not that serious).
Girl Code: Gaming, Going Viral, and Getting It Done

by

Andrea Gonzales, Sophie Houser
Perfect for aspiring coders everywhere, Girl Code is the story of two teenage tech phenoms who met at Girls Who Code summer camp, teamed up to create a viral video game, and ended up becoming world famous. The book also includes bonus content to help you get started coding!
Fans of funny and inspiring books like Maya Van Wagenen's Popular and Caroline Paul's Gutsy Girl will love hearing about Andrea "Andy" Gonzales and Sophie Houser's journey from average teens to powerhouses. Through the success of their video game, Andy and Sophie got unprecedented access to some of the biggest start-ups and tech companies, and now they're sharing what they've seen. Their video game and their commitment to inspiring young women have been covered by the Huffington Post, Buzzfeed, CNN, Teen Vogue, Jezebel, the Today show, and many more.
Get ready for an inside look at the tech industry, the true power of coding, and some of the amazing women who are shaping the world. Andy and Sophie reveal not only what they've learned about opportunities in science and technology but also the true value of discovering your own voice and creativity.
Check me out on Social Media!