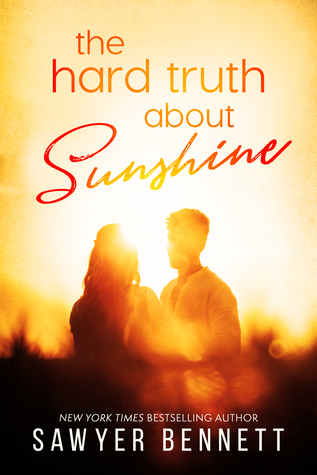 The Hard Truth Of Sunshine by Sawyer Bennett
Release Date: 28/03/17
New York Times bestselling author Sawyer Bennett has written her most gripping and poignant tale yet. Provocatively heart-breaking, audaciously irreverent and romantically fulfilling, The Hard Truth About Sunshine exposes just how very thin the line is between a full life and an empty existence.
Despite having narrowly escaped death's clutches, Christopher Barlow is grateful for nothing. His capacity to love has been crushed. He hates everyone and everything, completely unable to see past the gray stain of misery that coats his perception of the world. It's only after he involuntarily joins a band of depressed misfits who are struggling to overcome their own problems, does Christopher start to re-evaluate his lot in life.
What could they possibly learn from one another? How could they possibly help each other to heal? And the question that Christopher asks himself over and over again… can he learn to love again?
He's about to find out as he embarks upon a cross country trip with a beautiful woman who is going blind, a boy with terminal cancer, and an abuse victim who can't decide whether she wants to live or die.
Four people with nothing in common but their destination. They will encounter adventure, thrills, loss and love. And within their travels they will learn the greatest lesson of all.
The hard truth about sunshine…
Warning: This book deals with some tough issues including suicide and sexual abuse.
Review:
5 Coming of Age Stars on Goodreads
This is not a typical Sawyer Bennett novel and if your going in expecting that then you will be disappointed. But if your going in with an open mind like I did, You'll end up falling so hard for this book. It really was so remarkable, gritty and brutal but yet there where times I was laughing out load to myself, while my husband looked at me like I was mad!
While this book wont be everyone's cup of tea I thoroughly enjoyed it and hope that Sawyer comes out with more of these nitty gritty stories. Great job bring on the next one!
Since the release of her debut contemporary romance novel, Off Sides, in January 2013, Sawyer Bennett has released more than 30 books and has been featured on both the USA Today and New York Times bestseller lists on multiple occasions.
A reformed trial lawyer from North Carolina, Sawyer uses real life experience to create relatable, sexy stories that appeal to a wide array of readers. From new adult to erotic contemporary romance, Sawyer writes something for just about everyone.
Sawyer likes her Bloody Marys strong, her martinis dirty, and her heroes a combination of the two. When not bringing fictional romance to life, Sawyer is a chauffeur, stylist, chef, maid, and personal assistant to a very active toddler, as well as full-time servant to two adorably naughty dogs. She believes in the good of others, and that a bad day can be cured with a great work-out, cake, or a combination of the two.
WEBSITE | FACEBOOK | TWITTER | BOOKBUB | AMAZON AUTHOR PAGE | INSTAGRAM
Check me out on Social Media!