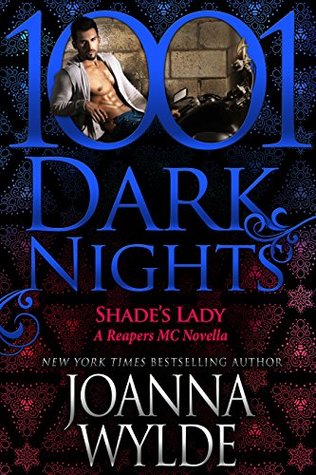 Shade's Lady (Reapers MC #6.5) by Joanna Wylde
Release Date: 14/03/17
New York Times bestselling author Joanna Wylde returns to the world of the Reapers Motorcycle Club…
Looking back, none of this would've happened if I hadn't dropped my phone in the toilet. I mean, I could've walked away from him if I'd had it with me.
Or maybe not.
Maybe it was all over the first time he saw me, and he would've found another way. Probably—if there's one thing I've learned, it's that Shade always gets what he wants, and apparently he wanted me.
Right from the first.
Review:
 5 Shade's Lady Stars on Goodreads
It has been so long and I loved getting back into the Reapers world. Shade and Mandy's story gave me a little flash back to Joanna's earlier Reaper's books. It had suspense, romance and as always a HEA.
"Holding my gaze steadily, he lifted his fingers to his mouth and slowly licked one. "Tastes good," he whispered. "Tastes like you want me. I think you're lying, princess. You want it and you want it bad."
Over all I really enjoyed reading this Novella it was an excellent read and if you love MC Romance give it an ole bash!
Check me out on Social Media!