I've just finished a few books where the author has playlists for her books. I've read a good few authors in the past where they've had playlists at the end of their books. I love this and only recently really sat and thought about it. As soon as I finished these books by Penelope Douglas, I pulled up my Spotify and started a play list called Book Tunes then I thought to myself I need to change that to Book Tunes – Pen Douglas cause I'm being honest here I plan to do more book tune playlists.
Her music mentioned in her books might not be everyone's cup of tea but it hit me with nostalgic feelings. A lot of these bands I listened to in my late teens and early 20's it was a flash back and I loved it. It reminded me of the many, many mix-tapes I would make up and listen to continuously.  
 So my question to you is, do you like when Authors have playlists? Do you listen to them while reading their books? Are you like me creating playlists to listen to while reading these books?
Punk 57 by Penelope Douglas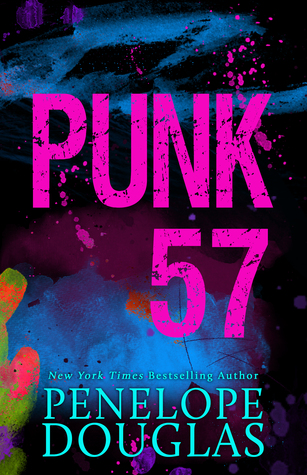 Avril Lavigne's Sk8er Boi plays on the radio, but I don't sing along like I usually do. And I barely notice the slight wheezing coming up from my chest as I gape at the homes and lawns on both sides of me. 
Holy shit. I'm way out of my league. 
• Bad Girlfriend by Theory of a Deadman
• Bleed It Out by Linkin Park
• Blow Me (One Last Kiss) by P!ink
• Colors by Halsey
• Dirty Little Secret by All-American Rejects
• Do You Know Who You Are? by Atreyu
• Happy Song by Bring Me the Horizon
• I Think We're Alone Now by Tiffany
• Lose Yourself by Eminem
• Love the Way You Lie by Eminem
• More Human Than Human by White Zombie
• Mudshovel by Staind
• Sk8er Boi by Avril Lavigne
• So Cold by Breaking Benjamin
• Square Hammer by Ghost
• Stupid Girl by Garbage
• True Friends by Bring Me the Horizon
• Where'd You Go by Fort Minor
• Wildest Dreams by Taylor Swift
A few favourites from this list are:
Falling Away by Penelope Douglas
"The earbuds still sat in my ears, Hinder's "Better Than Me" poetically fucking with my head as I squeezed the damp piece of paper in my fist. Holding her words tight. Holding all I had left of her. It had been four days. Four days and nine hours since she'd talked to me or looked at me or been in the same room with me, and every day that passed my stomach got more and more hollow and my muscles got weaker. I was miserable without her."
• Again-Alice in Chains
• Battle Born-Five Finger Death Punch
• Better Than Me-Hinder
• Bones-Young Guns
• Cruel Summer-Bananarama
• Deal with the Devil-Pop Evil
• The Deep End-Crossfade
• Down with the Sickness-Disturbed
• Dragula-Rob Zombie
• Falling Away From Me- Korn
• Firework-Katy Perry
• Good Man-Devour the Day
• Heaven Knows– The Pretty Reckless
• Hemorrhage (In My Hands)-Fuel
• Here Without You-3 Doors Down
• The High Road-Three Days Grace
• I Hate Myself for Loving You-Joan Jett & The Blackhearts
• I'm Not Jesus-Apocalyptica
• Me So Horny-2 Live Crew
• My Demons-Starset
• Never Gonna Stop (The Red, Red Kroovy)-Rob Zombie
• Slept So Long-Jay Gordon
• Stupify– Disturbed
• Take Out the Gunman-Chevelle
• Talk Dirty to Me– Poison
• Tired-Stone Sour
• Torn to Pieces-Pop Evil
• Trenches-Pop Evil
A few favourites from this list are:
Check me out on Social Media!