Amazon Top 10 Kindle E-books 2016
How many have you read?
1. The Girl in the Ice by Robert Bryndza
Release Date: 12/02/16
Her eyes are wide open. Her lips parted as if to speak. Her dead body frozen in the ice…She is not the only one.
When a young boy discovers the body of a woman beneath a thick sheet of ice in a South London park, Detective Erika Foster is called in to lead the murder investigation.
The victim, a beautiful young socialite, appeared to have the perfect life. Yet when Erika begins to dig deeper, she starts to connect the dots between the murder and the killings of three prostitutes, all found strangled, hands bound and dumped in water around London.
What dark secrets is the girl in the ice hiding?
As Erika inches closer to uncovering the truth, the killer is closing in on Erika.
The last investigation Erika led went badly wrong… resulting in the death of her husband. With her career hanging by a thread, Erika must now battle her own personal demons as well as a killer more deadly than any she's faced before. But will she get to him before he strikes again?
2. Me Before You by Jojo Moyes
Release Date: 31/12/12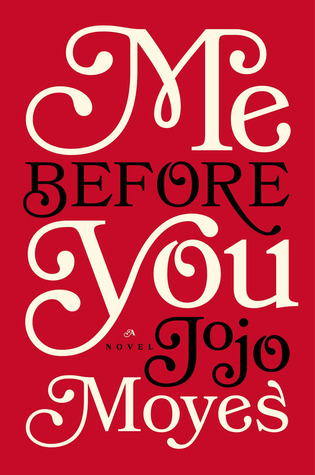 Louisa Clark is an ordinary girl living an exceedingly ordinary life—steady boyfriend, close family—who has barely been farther afield than their tiny village. She takes a badly needed job working for ex–Master of the Universe Will Traynor, who is wheelchair bound after an accident. Will has always lived a huge life—big deals, extreme sports, worldwide travel—and now he's pretty sure he cannot live the way he is.
Will is acerbic, moody, bossy—but Lou refuses to treat him with kid gloves, and soon his happiness means more to her than she expected. When she learns that Will has shocking plans of his own, she sets out to show him that life is still worth living.
3. The Nightingale by Kristin Hannah
Release Date: 03/02/15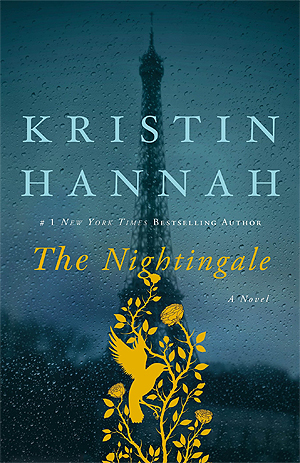 Despite their differences, sisters Vianne and Isabelle have always been close. Younger, bolder Isabelle lives in Paris while Vianne is content with life in the French countryside with her husband Antoine and their daughter. But when the Second World War strikes, Antoine is sent off to fight and Vianne finds herself isolated so Isabelle is sent by their father to help her.
As the war progresses, the sisters' relationship and strength are tested. With life changing in unbelievably horrific ways, Vianne and Isabelle will find themselves facing frightening situations and responding in ways they never thought possible as bravery and resistance take different forms in each of their actions.
4. The Wedding Dress by Rachel Hauck
Release Date: 02/04/12
Four brides. One Dress.
A tale of faith, redemption, and timeless love.
Charlotte owns a chic Birmingham bridal boutique. Dressing brides for their big day is her gift . . . and her passion. But with her own wedding day approaching, why can't she find the perfect dress…or feel certain she should marry Tim?
Then Charlotte discovers a vintage dress in a battered trunk at an estate sale. It looks brand-new-shimmering with pearls and satin, hand-stitched and timeless in its design. But where did it come from? Who wore it? Who welded the lock shut and tucked the dog tags in that little sachet? Who left it in the basement for a ten-year-old girl? And what about the mysterious man in the purple vest who insists the dress had been "redeemed."
Charlotte's search for the gown's history-and its new bride-begins as a distraction from her sputtering love life. But it takes on a life of its own as she comes to know the women who have worn the dress. Emily from 1912. Mary Grace from 1939. Hillary from 1968. Each with her own story of promise, pain, and destiny. And each with something unique to share. For woven within the threads of the beautiful hundred-year-old gown is the truth about Charlotte's heritage, the power of courage and faith, and the timeless beauty of finding true love.
5. The Girl on the Train by Paula Hawkins
Release Date: 13/01/15
The debut psychological thriller that will forever change the way you look at other people's lives.
EVERY DAY THE SAME
Rachel takes the same commuter train every morning and night. Every day she rattles down the track, flashes past a stretch of cozy suburban homes, and stops at the signal that allows her to daily watch the same couple breakfasting on their deck. She's even started to feel like she knows them. Jess and Jason, she calls them. Their life—as she sees it—is perfect. Not unlike the life she recently lost.
UNTIL TODAY
And then she sees something shocking. It's only a minute until the train moves on, but it's enough. Now everything's changed. Unable to keep it to herself, Rachel goes to the police. But is she really as unreliable as they say? Soon she is deeply entangled not only in the investigation but in the lives of everyone involved. Has she done more harm than good?
6. The Last Mile by David Baldacci
Release Date: 26/04/16
In his #1 New York Times bestseller Memory Man, David Baldacci introduced the extraordinary detective Amos Decker-the man who can forget nothing.
Now, Decker returns in a spectacular new thriller . . . THE LAST MILE
Convicted murderer Melvin Mars is counting down the last hours before his execution–for the violent killing of his parents twenty years earlier–when he's granted an unexpected reprieve. Another man has confessed to the crime.
Amos Decker, newly hired on an FBI special task force, takes an interest in Mars's case after discovering the striking similarities to his own life: Both men were talented football players with promising careers cut short by tragedy. Both men's families were brutally murdered. And in both cases, another suspect came forward, years after the killing, to confess to the crime. A suspect who may or may not have been telling the truth.
The confession has the potential to make Melvin Mars–guilty or not–a free man. Who wants Mars out of prison? And why now?
But when a member of Decker's team disappears, it becomes clear that something much larger–and more sinister–than just one convicted criminal's life hangs in the balance. Decker will need all of his extraordinary brainpower to stop an innocent man from being executed.
7. A Shade of Vampire by Bella Forrest
Release Date: 07/12/12
On the evening of Sofia Claremont's seventeenth birthday, she is sucked into a nightmare from which she cannot wake.
A quiet evening walk along a beach brings her face to face with a dangerous pale creature that craves much more than her blood.
She is kidnapped to an island where the sun is eternally forbidden to shine.
An island uncharted by any map and ruled by the most powerful vampire coven on the planet. She wakes here as a slave, a captive in chains.
Sofia's life takes a thrilling and terrifying turn when she is the one selected out of hundreds of girls to join the harem of Derek Novak, the dark royal Prince.
Despite his addiction to power and obsessive thirst for her blood, Sofia soon realizes that the safest place on the island is within his quarters, and she must do all within her power to win him over if she is to survive even one more night.
Will she succeed? …or is she destined to the same fate that all other girls have met at the hands of the Novaks?
8. The Girl You Lost by Kathryn Croft
Release Date: 05/02/16
Eighteen years ago your baby daughter was snatched. Today, she came back. A sinister and darkly compelling psychological thriller from the No.1 bestselling author of The Girl With No Past. Eighteen years ago, Simone Porter's six-month-old daughter, Helena, was abducted. Simone and husband, Matt, have slowly rebuilt their shattered lives, but the pain at losing their child has never left them. Then a young woman, Grace, appears out of the blue and tells Simone she has information about her stolen baby. But just who is Grace – and can Simone trust her? When Grace herself disappears, Simone becomes embroiled in a desperate search for her baby and the woman who has vital clues about her whereabouts. Simone is inching closer to the truth but it'll take her into dangerous and disturbing territory. Simone lost her baby. Will she lose her life trying to find her?
9. The Last Anniversary by Liane Moriarty
Release Date: 24/06/14
Sophie Honeywell always wondered if Thomas Gordon was the one she let get away. He was the perfect boyfriend, but on the day he was to propose, she broke his heart. A year later he married his travel agent, while Sophie has been mortifyingly single ever since. Now Thomas is back in her life because Sophie has unexpectedly inherited his aunt Connie's house on Scribbly Gum Island — home of the famously unsolved Munro Baby mystery.
Sophie moves onto the island and begins a new life as part of an unconventional family where it seems everyone has a secret. Grace, a beautiful young mother, is feverishly planning a shocking escape from her perfect life. Margie, a frumpy housewife, has made a pact with a stranger, while dreamy Aunt Rose wonders if maybe it's about time she started making her own decisions.
As Sophie's life becomes increasingly complicated, she discovers that sometimes you have to stop waiting around — and come up with your own fairy-tale ending.
As she so adroitly did in her smashing debut novel, Three Wishes, the incomparable Liane Moriarty once again combines sharp wit, lovable and eccentric characters, and a page-turning story for an unforgettable Last Anniversary.
10. When Breath Becomes Air by Paul Kalanithi
Release Date: 19/01/16
For readers of Atul Gawande, Andrew Solomon, and Anne Lamott, a profoundly moving, exquisitely observed memoir by a young neurosurgeon faced with a terminal cancer diagnosis who attempts to answer the question What makes a life worth living?
 
At the age of thirty-six, on the verge of completing a decade's worth of training as a neurosurgeon, Paul Kalanithi was diagnosed with stage IV lung cancer. One day he was a doctor making a living treating the dying, and the next he was a patient struggling to live. Just like that, the future he and his wife had imagined evaporated. When Breath Becomes Air, which features a Foreword by Dr. Abraham Verghese and an Epilogue by Kalanithi's wife, Lucy, chronicles Kalanithi's transformation from a naïve medical student "possessed," as he wrote, "by the question of what, given that all organisms die, makes a virtuous and meaningful life" into a young neurosurgeon at Stanford, guiding patients toward a deeper understanding of death and illness, and finally into a patient and a new father to a baby girl, confronting his own mortality.
 
What makes life worth living in the face of death? What do you do when the future, no longer a ladder toward your goals in life, flattens out into a perpetual present? What does it mean to have a child, to nurture a new life as another fades away? These are some of the questions Kalanithi wrestles with in this profoundly moving, exquisitely observed memoir.
 
Paul Kalanithi died in March 2015, while working on this book, yet his words live on as a guide and a gift to us all. "I began to realize that coming face to face with my own mortality, in a sense, had changed nothing and everything," he wrote. "Seven words from Samuel Beckett began to repeat in my head: 'I can't go on. I'll go on.'" When Breath Becomes Air is an unforgettable, life-affirming reflection on the challenge of facing mortality and on the relationship between doctor and patient, from a gifted writer who became both.
Check me out on Social Media!