Top 5 Hair essentials for blondes
I had a really bad experience before Christmas in a local hairdressers. I'm blonde and have been for the last few years. I usually do my own hair and leave my roots awhile and put in a lot of pastel and grey colours. But I thought for Christmas I'll go get my hair done, treat myself. I'd been to this hairdressers a few times and the girl I go to in the past has been good and I've never had any problems.
As I use bleach in my hair I look after it really well. I've always had great hair and even though I use bleach in it didn't want that to change. The products I'm going to talk about in this blog post are products I've used since day one being a blonde and I can highly recommend them!
What happened before Christmas has never happened to me before and I was highly upset over it. I had been left to long with bleach in my hair and ended up with chemical burns on my scalp. Sitting there I knew and I tried to catch her eye but she was so busy she had just forgotten about me. By the time they where washing the bleach out, my head was on fire and I was really upset. I'm into one to complain I work with the public and I know how hard it can be at times. I though it would be grand. She came over and said I recommend we put in a mask today, I looked at her and just nodded. I could barely speak to her I was so upset All the way through drying my hair she kept asking me if I OK. I said yes and that was it. She knew I wasn't.
I left there and went straight down to my Mam's and had a good cry. I did have a lot going on at the time so it was a lot of things that came to head and I had a little broken moment. My mam made me something to eat and a nice cup of tea and I calmed down.
My hair (Colour wise) looked great. But I could feel it was really dry and the next day I had little cuts all over my head. The first free day I had I got my hair oil out and lashed a load onto my hair. I left it in for the day. Actually I didn't wash it out till next morning. I did this every few week for 4 weeks. I noticed right after that my hair was breaking very easily. So I was on project hair for weeks to get it back to its healthy self.  Its now the end of the second week in Jan about a month after the event and my is so much better.
My sister keeps asking me why I didn't complain. The hairdressers I went to is run by Chinese and They tend to not have great English. I just felt if I was to go up and complain It would have upset me more and I really didn't want to. I felt I don't know embarrassed. Crazy I know but I just felt if I walked in and complained they would have looked and me and said nothing. I just felt that I couldn't go back there. I wont ever be going back there and I have told many of my friends about what happened, so I know they wont go there.
Let me know what you think of the products and if you use any of them, What you think etc..
Lee Stafford Bleach Blondes Shampoo
Freshly bleached blonde hair looks bright, beautiful and banging but overtime it can go brassy leaving you with canary yellow tones.
This deliciously deep purple shampoo is a popular one. It's been specifically formulated for bleached or partly bleached highlights or bleached hair and will lightly tone your hair to knock out any brassy yellow tones developed over time. You'll be left with hair that's refreshed and restored back to its Beautiful salon colour.
Lee Stafford Bleach Blondes Conditioner
This mega moisturising conditioner will help to refresh and restore blonde hair back to its beautiful salon colour. Your blonde barnet will be left smooth and hydrated thanks to the PRO-BLONDE™ complex with panthenol, chamomile and moringa seed extract (aka Miracle Tree), which helps keep hair squeaky clean and boosts hair's natural shine!
Benefits from both these products
Toning shampoo
Refreshes and restores blonde hair
Moisturising
UV protection
Great fragrance
Both these products I use on a daily basis. I know it says not to, but I love the tone it gives my hair. It's brilliant at keeping the bras out off my blonde.
This ash shampoo treatment which literally gets to the root of the problem by targeting brassy, canary yellow tones in blonde hair…in a shot!
Specially formulated for natural, coloured or highlighted hair, this purple shampoo treatment packs a punch stopping brassiness dead in its tracks, reviving your icy white blonde hair. 4 blondes is crammed full of PRO-BLONDE™ complex with extra moisturisers to refresh and revitalise your hair, leaving it bright and baby blonde once more.
This product is amazing. I use it probably ever week and I only use half a packet so one pack would do me a coupe of weeks. It really brings up your blonde. It says to leave it in for 2 – 20 mins. To be honest I generally leave it in for 5 mins and I think that's enough time.
Lé Mara Miracle Facial (Hair &Body) Oil
A non-greasy, deeply moisturising facial oil with antioxidants to keep dry or mature skin supple and conditioned. I use this oil for my hair. It says on it that it can be used for Face, Body and hair. this product is so versatile. I use it for everything!  Plus its Irish, it's made in the west coast of Ireland. You can buy this product in any Aldi when there not sold out. its €4.99 and last so long.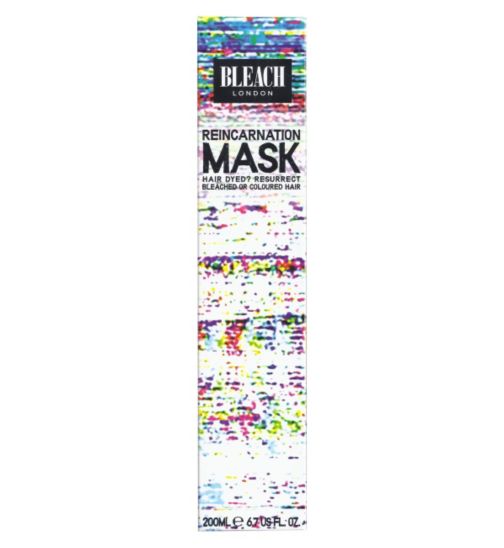 Bleach London Reincarnation Mask
Resurrect and hydrate thirsty, bleached or coloured hair and improve elasticity with this repairing and moisturising Bleach Reincarnation Mask. Enriched with sunflower seed extract and micro wheat proteins to give great shine, strengthen colour vibrancy and help reduce colour fade.
This one of the best Masks I've ever tried. It leaves your hair feeling like silk. One thing that's important to note about this mask is that it's to be used pre-shampoo. So you need to wet your hair and then apply, leave on for 10-20 mins and then rinse and then shampoo as usual. To enhance the super conditioning effect wrap your hair in a warm towel or cling-film. I've left this in my hair for hours, but 20 mins will do.
Check me out on Social Media!