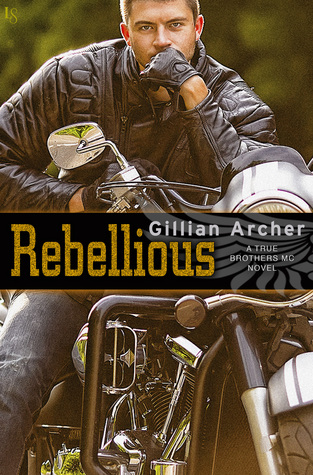 Rebellious (True Brothers MC #2) by Gillian Archer
Release Date: 13/09/16
Every rebel needs a cause—and a woman to believe in. Discover why Heidi McLaughlin raves that "the sexy, alluring bad boys of the True Brothers MC will make your mouth water" in this smoldering novel from the author of Ruthless.
The black-leather-clad biker who just roared up on his Harley doesn't resemble any single father Emily Clark has ever known. But as she watches "Reb" bonding with his son, Emily realizes there's a lot more to this bad boy than his alpha-male attitude or his sinful good looks. And when Reb takes an interest in her, there's no way she can resist his surprisingly tender touch. The one thing Emily won't give up is her hard-won independence.
As president of the True Brothers MC, Reb owes a sacred debt of loyalty to the club, but his first priority is making sure that his son grows up right. Pursuing an unexpected affair with Emily is a close second. Then a violent stalker threatens her life, and this unconventional guardian angel really turns up the heat. Nobody messes with Reb, or anyone under his protection. Trouble is, how's he supposed to defend Emily when she insists on going it alone? He's willing to put his life on the line for her. Now, maybe, he needs to open his heart.
Check me out on Social Media!