I remember reading this book as a kid and then passing it to all my friends. Even my friends who weren't big readers wanted this book in their hands.  At the time everyone wanted to read the tame (Although at the time not so tame) dirty bits in it. Yeah this is defiantly a flash back and this book will be forever remind me of my teens. Have you ever read Forever? What did you think of it?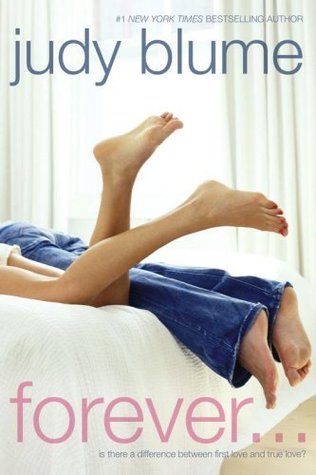 Forever by Judy Blume
Release Date: 1975
Katherine and Michael meet at a New Year's Eve party. They're attracted to each other, they grow to love each other. And once they've decided their love is forever, they make love.
It's the beginning of an intense and exclusive relationship, with a future all planned. Until Katherine's parents insist that she and Michael put their love to the test with a summer apart…
"Forever" is written for an older age group than Judy Blume's other novels for children. It caused a storm of controversy when it was first published because of its explicit sexual content.
It was a book ahead of its time – and remains, after thirty years in print, a teenage best-seller. America's No. 1 children's author has written some of the best books of our time about real-life issues – family stress and pressures, what happens when your parents divorce, the problems of growing up and sexual awakening, bereavement – with insight, sensitivity and honesty.
The response of readers all around the world continues to make her one of the best-loved writers ever published.
Author:
Judy Blume spent her childhood in Elizabeth, New Jersey, making up stories inside her head. She has spent her adult years in many places doing the same thing, only now she writes her stories down on paper. Adults as well as children will recognize such Blume titles as: Are You There God? It's Me, Margaret; Blubber; Just as Long as We're Together; and the five book series about the irrepressible Fudge. She has also written three novels for adults, Summer Sisters; Smart Women; and Wifey, all of them New York Times bestsellers. More than 80 million copies of her books have been sold, and her work has been translated into thirty-one languages. She receives thousands of letters a year from readers of all ages who share their feelings and concerns with her.
Judy received a B.S. in education from New York University in 1961, which named her a Distinguished Alumna in 1996, the same year the American Library Association honored her with the Margaret A. Edwards Award for Lifetime Achievement. Other recognitions include the Library of Congress Living Legends Award and the 2004 National Book Foundation's Medal for Distinguished Contribution to American Letters.
She is the founder and trustee of The Kids Fund, a charitable and educational foundation. She serves on the boards of the Author's Guild; the Society of Children's Book Writers and Illustrators; the Key West Literary Seminar; and the National Coalition Against Censorship.
Judy is a longtime advocate of intellectual freedom. Finding herself at the center of an organized book banning campaign in the 1980's she began to reach out to other writers, as well as teachers and librarians, who were under fire. Since then, she has worked tirelessly with the National Coalition Against Censorship to protect the freedom to read. She is the editor of Places I Never Meant To Be, Original Stories by Censored Writers.
Judy has completed a series of four chapter books — The Pain & the Great One — illustrated by New Yorker cartoonist James Stevenson. She has co-written and produced a film adaptation of her book Tiger Eyes, and is currently writing a new novel.
Judy and her husband George Cooper live on islands up and down the east coast. They have three grown children and one grandchild.
Check me out on Social Media!