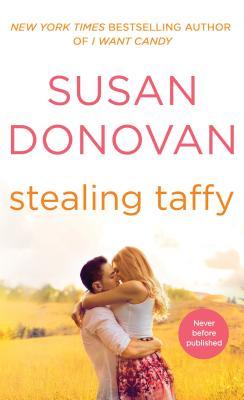 Stealing Taffy (Bigler, North Carolina #3) by Susan Donovan
Release Date: 30/08/16
Ten weeks in a swanky Arizona rehab center has done wonders for Tanyalee Newberry. She's turning over a new leaf – no more manipulating men, shoplifting, or forgery for her! But when her flight home gets rerouted in bad weather, she ends up sharing a hotel room (and seven hours of mind-numbing sex) with her airplane seatmate, a complicated Northerner who is clearly not who he says he is. Tanyalee sneaks off while he sleeps, leaving a bracelet as a memento of their encounter.
DEA Special Agent Dante Cabrera wakes up alone in a Washington, DC hotel room, bested at his own "love-'em-and-leave-'em" game by a sexy Southern belle. A pink and silver charm bracelet engraved with the word "Taffy" is all that's left of the wildest night he's had in years. And because his transfer request was denied, it's back to the hills of Western North Carolina Dante must go. Weeks pass, but Dante can't forget the taste of sweet Taffy.
When an ongoing investigation leads Dante to a little girl Tanyalee mentors in a community service program, their anonymous hotel hookup gets dragged into the bright light of real life. Is there more to Tanyalee and Dante than a one-night stand? Has Tanyalee unwittingly put herself and the child in danger? Can Dante save them both?
Review:
4 Sweet like Taffy Stars on gioodreads, Read from July 29 to August 01, 2016
I had been waiting for the release of this book for so long and I wasn't disappointed.
Taffy's story flowed from the very first Chapter and I was hooked!
Dante and Taffy's Relationship was hot and I enjoyed reading their story.
If you're looking for a nice, excitable read for your hollers pack this book in your suitcase. It's one of those summer reads that you'll lie in the sun reading and not notice the time fly by.
Check me out on Social Media!