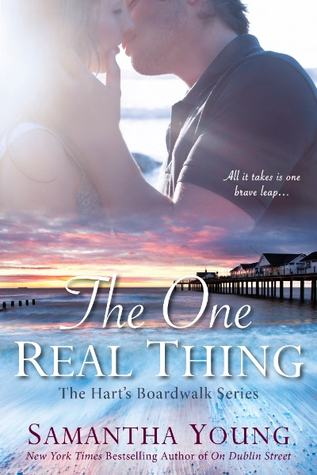 The One Real Thing (Hart's Boardwalk #1) by Samantha Young
Release Date: 06.09.16
Welcome to Hartwell, a quiet seaside escape where uncovering old secrets could lead one woman to discover the meaning of a love that lasts…
While Doctor Jessica Huntington engages with the inmates at the women's correctional facility where she works, she's always careful to avoid emotional attachments in her personal life. Loss and betrayal taught her that lesson long ago. But when she comes across a set of old love letters in the prison's library and visits the picturesque town of Hartwell to deliver them to their intended recipient, she finds herself unable to resist the town's charm—and her attraction to the sexy owner of a local bar proves equally hard to deny.
Since his divorce from his unfaithful ex-wife, Cooper Lawson has focused on what really matters: his family and the boardwalk pub they've owned for generations. But the first time Jessica steps into his bar, Cooper is beyond tempted to risk his heart on her. Yet as their attraction grows hotter and Jessica remains stubbornly closed off, he begins to realize it will take more than just passion to convince her there's only one real thing in life worth fighting for…
Review:
3.5 Hartwell  Stars on Goodreads, Read from June 30 to July 05, 2016
I loved the concept for The One Real Thing and the background for the story was very good. I like that we get to hear about other characters within the small town of Hartwell. I feel that they make the story a lot better. I'm excited to hear Emery's story. That girl has something big there and I'm dying to hear about it.
This book was a little too slow paced for my liking. I would have liked it to move along faster. With that though I did enjoy the story and did want to know what was going to happen with Jess and Cooper.
The One Real Thing was a well written book with great characters and a very enjoyable story-line, that said it wasn't really for me. Will I read the next book in the series? I probably will, especially if its Emery or Bailey's sorry!
    Author Bio:
Samantha Young is a New York Times, USA Today and Wall Street Journal bestselling author from Stirlingshire, Scotland. She's been nominated for the Goodreads Choice Award 2012 for Best Author and Best Romance for her international bestseller ON DUBLIN STREET, Best Romance 2014 for BEFORE JAMAICA LANE, and Best Romance 2015 for HERO. ON DUBLIN STREET is Samantha's first adult contemporary romance series and has sold in twenty-nine countries.
Check me out on Social Media!