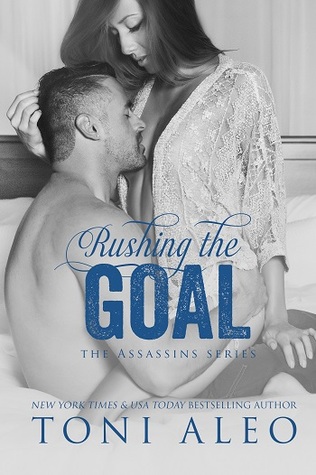 Rushing the Goal by Toni Aleo
Release Date: 28/03/16
Lucy Sinclair was no stranger to pain.
She grew up with three younger brothers, met a bad boy, got pregnant by him, married him, and then suffered through a nasty divorce from him. Pain. That was pain. To top it off, she even had to go through the heartbreaking divorce of her parents. Through it all, she survived. All she cared about was making sure her daughter was happy and taken care of. Despite an ex-husband hell-bent on ruining her life, she fought to overcome. She's gotten to the point that she's okay with being just okay. She never cared about herself because she never had the time. It was Angie and only Angie she focused on, but that all changed when Benji Paxton offered to help her daughter on the ice.
Benji knew the moment he saw Lucy, he'd never be the same. Especially when she came with the bundle of crazy that was her daughter. His heart wasn't ready for them. After years spent sobering up and finding who he was without the alcohol, he never forgot he was being punished for not appreciating the love he had when he was younger. Because of his past, he had gotten used to being alone, a recluse, but even he had to admit it was getting old. He was lonely. Hockey wasn't enough anymore. He wanted a family; he wanted his true love.
And Lucy and Angie were just that.
They were just two lost souls.
Floating through life with no purpose.
But finding each other gave them direction, a chance at a future.
And had them both Rushing the Goal to be together.
Review: 
5 Rushing the Goal Stars
This is the 8th book in the Assassin's series and yet I still can't get enough of these books and these Characters.
"It was easy to tell that she didn't like him. For no reason at all…
But he didn't mind. He liked her, and her sassy mouth and resting bitch face wouldn't stop him. No, he'd change her mind. He'd get her to like him."
We're introduced to Lucy Sinclair and Benji Paxton. I just fell in love with Benji's Characters from the first Chapter, he was fun, a little nerdy, honest and had the biggest heart.
This story was so good! It was like being on a roller-coaster it was funny one minute and so emotional the next!
"Why are you rushing this? Just let it ride."
"'Cause it's what I do. I rush the goal to score. You are the ultimate goal, and I want to score."
Very enjoyable read that I would recommend to anyone who enjoys funny and sweet ice hockey romances.