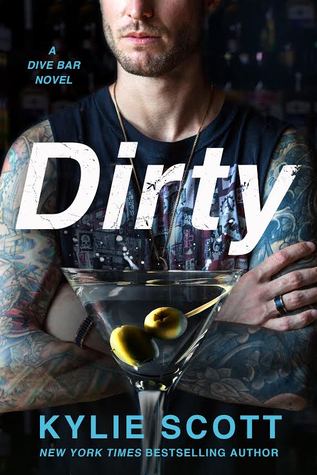 Dirty (Dive Bar #1) by Kylie Scott
Release Date: 19/04/16
The last thing Vaughan Hewson expects to find when he returns to his childhood hime is a broken-hearted bride in his shower, let along the drama and chaos that comes with her.
Lydia Green doesn't know whether to burn down the church or sit and cry in a corner. Discovering the love of your life is having an affair on your wedding day is bad enough. Finding out it's with his best man is another thing all together. She narrowly escapes tying the knot and meets Vaughan only hours later.
Vaughan is the exact opposite of the picture perfect, respected businessman she thought she'd marry. This former musician-turned-bartender is rough around the edges and unsettled. But she already tried Mr. Right and discovered he's all wrong-maybe it's time to give Mr. Right Now a chance.
After all, what's wrong with getting dirty?
Buy your copy now!
Amazon US  |  Amazon UK  |  iBooks  |  Barnes & Noble  |  Kobo
Review:
4 Funny not really Dirty Stars on Goodreads Read from February 19 to 22, 2016
Dirty was a little different to the stage dive Series but it was just as enjoyable.
Lydia's Character was a scream and some of her insecurities where very relate-able. 
From the very first line I was hocked on her and I felt so sorry for her. I was right there with her wanted to Punch Chris in the god damn face!
Vaughan was delish, however again I did want to knock some sense into him at times. 
But overall a very enjoyable read and I look forward to more in this new series from Kylie Scott
**ARC provided via Netgalley in exchange for an honest review.**