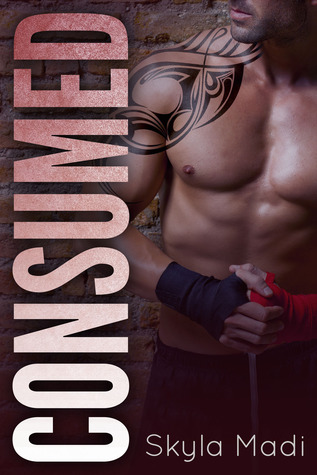 Consumed (Consumed #1) by Skyla Madi
Release Date: 11.09.13
Olivia James has never been one to walk on the wild side, at least not until she meets Seth Marc—a cocky, sexy fighter at her father's gym. He's infuriating, nauseatingly addictive and she just can't seem to shake him. He's only been in town a short while and his name is already on everyone's lips. He's the kind of guy moms' warn their daughters about—the kind that leaves a trail of shattered hearts behind him and he has Olivia in his sights.
Olivia has never met anyone as confusing as Seth and his hot and cold attitude constantly sends her reeling. She's never wanted anyone's touch so badly in her life, but having recently come out of a long term relationship diving into another is something she'd prefer to avoid.
Determined for his touch, but not to let him under her skin, Olivia embarks on the most thrilling ride of her life.
Review:
3.5 Fighting Stars on Goodreads Read from March 6th to 7th
Surprisingly enough I really enjoyed this book.
A few little things annoyed me but over all, Olivia was funny in a train wreck kinda way and Seth is sexy in a "Don't look at me or I'll bite your head off" kinda way!